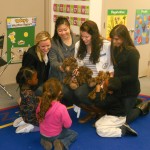 Hello Everyone,
Attached you will find a picture of the attendees of the Teddy Bear Clinic on March 16, 2012 at the Cherry Tree Club in Princeton Junction. At the clinic the girls and I educated Pre-K children on the importance of proper wound care and hand hygiene. We also explained what a nurse does in the hospital and at the Pediatrician's Office. All of the Children received there own teddy bear and a pamphlet on nursing. Activities that were done include glitter "germ" hand washing, assessment of a teddy bear, and wound care on pretend "boo-boo's." The Student Nurses Association would like to thank every one who was involved in putting this event together.
Have a wonderful weekend!
Erin Moore
In order of appearance from left to right – Kristen Stefanelli, Class of 2015, Julie Tran, Class of 2015, Erin Moore, Class of 2013, and Shruti Patel, Class of 2015. — Erin Moore Vice President, Student Nurses Association Facilitator, Leadership Development Program School of Nursing – Class of 2013 The College of New Jersey — Norma R Brown, MSN, RN Coordinator, Clinical Learning Laboratory–nursing The College of New Jersey School of Nursing, Health, and Exercise Science 2000 Pennington Road Loser 13 Ewing, NJ 08628 609-771-3459 "We are what we repeatedly do. Excellence, then, is not an act, it is a habit" Aristotle 384-322BC.