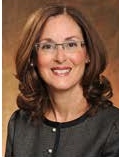 Special Thanks and Farewell to
Dean Susan Bakewell-Sachs
Following 17 years of exceptional service and leadership at TCNJ, Dr. Susan Bakewell-Sachs Ph.D., R.N., A.P.R.N., B.C., accepted the position of School of Nursing dean and vice president for nursing affairs for Oregon Health & Science University in July, 2013.
Dr. Bakewell-Sachs most recently served as Interim Provost and Vice President for Academic Affairs at TCNJ, having played a key leadership role in steering a new institutional strategic planning process.  However, the TCNJ Nursing community is most appreciative of her extraordinary contributions as the first Carol Kuser Loser Dean of the School of Nursing, Health, and Exercise Science, and previously as Professor of Nursing.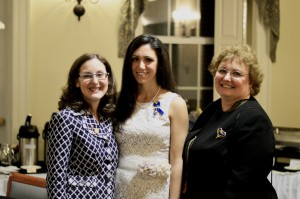 Faculty, staff, and students gathered to bid a fond farewell to Dr. Bakewell-Sachs at a surprise reception following the Class of 2013 Pinning Ceremony on May 3, 2013.  Reflecting on her career at TCNJ, Dr. Bakewell-Sachs remarked, "I am so honored and thankful to have been a member of this very special community. Please know that I will carry with me and treasure the relationships I formed with so many talented and caring colleagues and students."
TCNJ President R. Barbara Gitenstien praised Dr, Bakewell-Sachs for her significant contributions to the College by remarking, "Since she arrived on campus in 1996, Susan's dedication and commitment to TCNJ has been extraordinary. Her leadership in the School of Nursing, Health and Exercise Science and as Interim Provost has ensured the continued advancement of our mission while providing an outstanding experience for our students, faculty, and staff. Although she may be moving to the west coast, she will always be a part of the TCNJ family."
Dr. Bakewell-Sachs was also active in efforts to transform nursing education in New Jersey. She served as Program Director for the New Jersey Nursing Initiative, sponsored by the Robert Wood Johnson Foundation.  The program aggressively addressed critical nursing challenges, such as the shortage of nursing professionals and the need for nursing education to keep pace with the needs of the 21st century.
"In the course of my work with the Robert Wood Johnson Foundation New Jersey Nursing Initiative and before that as dean of the School of Nursing, Health, and Exercise Science at The College of New Jersey, I have paid close attention to the national landscape of nursing education, practice and research," said Dr. Bakewell-Sachs.
Dr. Bakewell-Sachs specialized in the care of preterm infants and published several books and medical journal articles on the topic. She obtained her bachelor of science in nursing degree from the University of Pittsburgh School of Nursing. She obtained her certified nurse practitioner, masters and doctoral degrees from the University of Pennsylvania School of Nursing.
As dean at OSHU, Dr. Bakewell-Sachs oversees education, research and faculty practice, as well as  at the school's virtual online programs. She also has a major role in the transformation of Oregon nursing education as part of state and federal health care reforms.