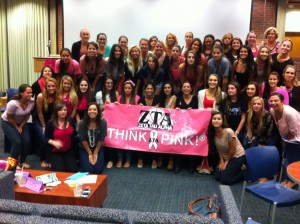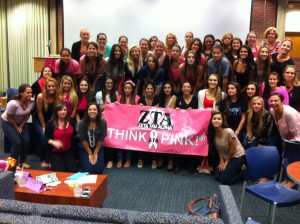 Nursing Professor Sharon Byrne educated students about breast cancer at Zeta Tau Alpha's "Caffeinate and Educate" event on October 2, 2013. Several TCNJ Nursing majors were among the 83 students that participated in  "Risk, Fact, or Myth – Breast Cancer Bingo",  a game designed to increase awareness about the disease, including causes, risks, prevention practices, and treatment options.  Prizes were provided by the   Avon Breast Cancer Foundation. 
Professor "I was amazed at the turn out and interest in the  event.  The  students were engaged, asked questions, and really were excited to participate in the game format".
Photo Caption:   Professor Sharon Byrne (back row, far right) is pictured with TCNJ Nursing students and members of the Zeta Tau Alpha sorority.