Highlights from Sigma Theta Tau International (STTI) Biennial Convention
Dr. Sharon Byrne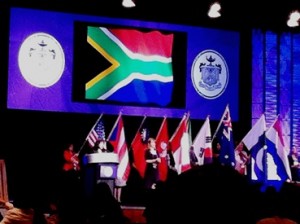 The 43rd Sigma Theta Tau International (STTI) Biennial Convention has passed but it was a truly a motivating experience. TCNJ attendees Dr. Sharon Byrne, President and Dr. Eileen Alexy, Governance Committee Member and Counselor, for the Delta Nu chapter of STTI joined over 2500 nursing colleagues from over 40 countries for program activities. Attendees at Biennial event held this November in Las Vegas, Nevada could select among a large variety of symposiums, break-out sessions, podium and poster presentations, and exhibit hall displays. One of the highlights of the convention was the opening ceremony where selected members of STTI presented their countries flags which stood with that of the United Nations on stage. In July, 2012, the United Nations Economic and Social Council (ECOSOC) granted special consultative status to the Honor Society of Nursing, Sigma Theta Tau International (STTI), based on expertise in the field of nursing and global health. This designation recognizes STTI's commitment to the charter of the U.N., which seeks to achieve international cooperation toward solving humanitarian issues. STTI also has privileges and access to nearly all intergovernmental processes at the U.N. dealing with economic and social development and allows the organization to participate on U.N. committees through which STTI has a "voice." As part of this affiliation, STTI commits to disseminate information and raise public awareness about the purposes and activities of the U.N. and related issues of global concern. The commitment to the profession of nursing being involved in global health was also supported by both the outgoing Presidential address by Hester Klopper whose call to action during 2013-2015 has been to Serve Locally, Transform Regionally, and Lead Globally and incoming President, Cathy Catrambones' call to action for the 2016-2018 biennium which is to Influence to Advance Global Health Nursing through Advocacy, Philanthropy, and Lifelong Learning.
It is important to share that nurses at the convention came from a broad array of roles and settings in academia, education, practice and research. The spirit of collaboration and collegiality was alive and well during the almost weeklong activities that focused on increasing knowledge in various specialties and evidence-based practice, promoting leadership development, enhancing clinical, patient and educational outcomes through transformative nursing practice, and exploring innovative strategies to promote excellence in global nursing. During the last two days of the convention, approximately 350 attendees whom also served as their chapters Delegates convened for the House of Delegates sessions. Dr. Byrne and Dr. Alexy were in attendance to hear testimony and vote on changes in the Bylaws and Resolutions of STTI. These will be shared on the organizations website and at the upcoming Delta Nu chapter meeting to be held at TCNJ in February 2016.
For those beginning their journey in nursing at the student level and not yet familiar with STTI, the mission of the Honor Society of Nursing, Sigma Theta Tau International is advancing world health and celebrating nursing excellence in scholarship, leadership, and service. You are invited to learn more about STTI, criteria for membership consideration and the benefits of membership at http://www.nursingsociety.org/ Current members are welcome to stay active with the Delta Nu chapter at TCNJ and participant in its many upcoming events. News can be found posted on The Circle at https:/thecircle.nursingsociety.org/deltanuchapter/home