The Department of Nursing houses three simulation/skills labs in two buildings -Trenton and Forcina Halls.
Trenton Hall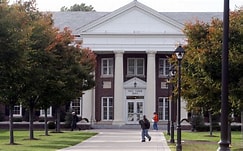 Two simulation/skills labs.  The Gladys Word Nursing Simulation Laboratory, has state of the art equipment-high and medium fidelity mannequins, one mannequin that employs artificial intelligence (AI) to respond to student questions, task trainers, hospital beds to support skills training, and medical/nursing equipment.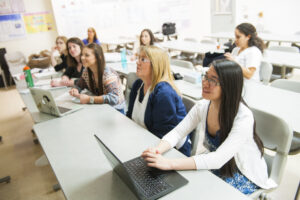 The lab is comprised of a smart classroom that affords maximum flexibility for teaching. The other smart classroom/lab accommodates up to 40 students and can reflect a clinic, emergency room with the accompanying equipment.
Forcina Hall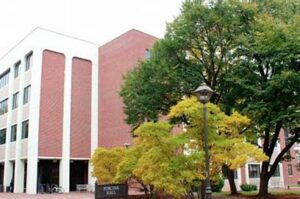 This Simulation Lab contains five beds and two examination rooms.  There is a debriefing room with a camera and television which affords students and faculty the ability to review simulation recordings.  Recorded sessions use our SimCapture technology.  Use of high-fidelity mannequins and standardized patients provide students unique experiences in maternity care, resuscitations, medical-surgical nursing, psychiatric nursing, pediatric nursing, community health nursing, and medication administration.  The Forcina lab is also used for skills' demonstration, fish-bowl style simulation, and simulation staging.
---
The Department of Kinesiology and Health Sciences houses the human performance lab, where researchers collect and analyze data from study volunteers.
» Learn more about the Human Performance Lab
The Department of Public health conducts research in the social epidemiology lab and the environmental health lab.
The Center for Integrative Wellness is a teaching/ training wellness center that offers options based on health needs and family income.